There is much more to the life of a truck driver than most people will ever stop to think about. Keeping our shelves stocked, our fridges full, and our service stations operative is only a couple of the day-to-day luxuries that we get to enjoy due to the continuous hard work of America's truck drivers.
Seeing as I've worked in the logistics/transportation field for almost three years now, I wanted to get a firsthand look into the daily life of the American truck driver. On the week leading up to National Truck Driver Appreciation Week (NTDAW) I put together a list of questions that I, as well as the team here at RJ Logistics, wanted to ask our drivers, as well as drivers all throughout the country.
Our goal was to offer some insight for our team, as well as our audience about what it's like to be in the shoes of a long-time driver. Hopefully, in doing so, people would understand that there's a lot more to the job than meets the eye.
I had the pleasure of accompanying Bill Rygwelski, an RJ Logistics company driver, over the course of two days for a driver ride-along program. I wanted to share with everyone some of the conversations that we had regarding the job!
So how long have you been driving?
Bill: "I've been driving for approximately 12 years now. Leading up to deciding to become a truck driver, I was working as a mechanic at my father's shop at our small town Up North (Northern Michigan). I made the choice to move more South in order to find better-paying work for the skills I had built over the years. Working in a small town, you get paid much less for the same kind of jobs you would do in bigger city areas. Around this time is when I had the idea that I wanted to become a truck driver."
What is your favorite state to drive through, and why?
Bill: "My favorite has to be Louisiana. I just love the scenery. The first time I ever drove through it was beautiful. The big open farmlands of the countryside, the historic homes, the landscape. I just really love it down there! Not to mention the food is absolutely amazing. Driving through the Upper Peninsula of Michigan is also incredible. There is a lot of untouched lands and the fact that there is very little traffic most days makes it a smooth ride."
What is your least favorite state to drive through, and why?
Bill: "I don't mind Illinois but I very much dislike driving through Chicago. Nothing personal against the city, it can just get difficult to navigate through the city traffic due to it being so busy."
What's the craziest experience you've encountered while on the road?
Bill: "You see all kinds of crazy things on the road as a truck driver. You could already imagine! One time during the winter, a car spun out in front of me on some black ice. All I could do was just take my foot off the gas and pray. He ended up sliding right off the interstate into the ditch. This was the best thing that could've happened to him, as well as all the other drivers on the road because there were no collisions. Had he spun out and ended up in the middle of the road, that could've been catastrophic if he got slammed into by a semi-truck or any other vehicle. You really begin to realize how dangerous it really is to drive. Not just a semi-truck, but any vehicle."
What's the most amount of miles you've put on your truck in a year?
Bill: "A majority of my work is done locally; I prefer to stay as close to home as possible when possible. In a year I usually put a good 130,000 miles on my truck give or take.
If you could give any advice to someone who wants to look into a career as a truck driver, what would you offer them?
Bill:" If becoming a truck driver is something you can really see yourself doing, then do it. It's a great career to get into with lots of great experiences to be made. All I would advise is to stay focused. This means on the road, on your health, your wellbeing, and all the people around you. You hear a lot of complaining while on the road from other drivers and it's easy to be turned off by the job. As long as you focus on yourself and being professional, you can make it pretty far as a driver. Down the road, if you plan on opening your own transportation or logistics company, it's a great experience to have to get you started."
What's your favorite part about being a truck driver?
Bill: "I like going to different states, places I've never been before, and meeting all kinds of different people. There is a lot of freedom in being a truck driver. It feels like I'm my own boss."
What's your least favorite part of being a truck driver?
Bill: "My least favorite part is being stuck in traffic. The stop and go can get extremely frustrating, especially when your driving hours are ticking away. Time is money in this industry, especially when we only have a certain amount of hours that we're allowed on the road. Watching those hours get chipped away due to traffic can really ruin your mood."
What's something you wish you knew before becoming a truck driver?
Bill: "How stressful it can be at times. It's never as simple as "Be here to pick up at 10:00 AM and be sure to deliver by 7:00 PM". There's a lot more to it than that as you can see from the last two days on the road with me. Loads get canceled upon arrival, you drive all the way to the destination for no reason, and usually have to drive back home empty. Wasting days can really get to you sometimes especially when you miss out on making some money."
Where do you see yourself in another 10 years of doing this job?
Bill: "If my body still holds up, I can see myself doing this job for another 10 years. Hopefully, in 10 years I'll still be driving for RJ's."
How long have you been driving for RJ's?
Bill: "It'll be 4 years this January."
What has been your favorite experience working as a driver for RJs?
Bill: "The best part would have to be that they treat you like family. I know many people say that but there's a reason that I haven't considered switching to any other company. They treat me well, I'm greeting every time I come through the shop, and they always forward us invites to any kind of company events that they have going on. I've worked for larger companies in the past and you just feel like a number within the company instead of an individual. The larger companies put a lot less effort into paying attention to their drivers or trying to make them feel as if they are actually contributing to the team."
What's the best part of your day?
Bill: "The best parts of my days are when everything goes right from pick-up to delivery. When I go to pick up a shipment and see that it's ready when I get loaded on time, and when I arrive at the receiver for delivery early makes me very happy. There's a lot of different things that can go wrong between the compromised pick-up/delivery times, so when everything falls into place perfectly, I have an overall amazing day."
What do you think regular drivers on the road should know or consider about commercial truck drivers?
Bill: "Most truck drivers are professionals and abide by the rules. They know how to handle or get around reckless drivers on the road. I wish more people on the road had a little more patience. We're hauling a lot of weight, sometimes upward of 80,000 lbs. It is not that simple for us to just hit the brakes if we end up getting cut off. When drivers fly past us and cut us off cause we're moving a little slower than the rest of the traffic, it can put our lives as well as others at risk. People need to understand for our safety and theirs that they need to give truck drivers space."
My time spent with Bill over the course of a couple of days really helped me get a more in-depth understanding of what these men and women really go through to keep our country moving and to allow all of us to enjoy the day-to-day conveniences that we don't typically take the time to appreciate. Moving forward, RJ Logistics is going to incorporate a driver ride-along program in order to help more of our employees get a glimpse of the day of the life of a truck driver. We hope by doing so, we can all do our part in further appreciating everything that our drivers do for us, not just for NTDAW, but for the entire year.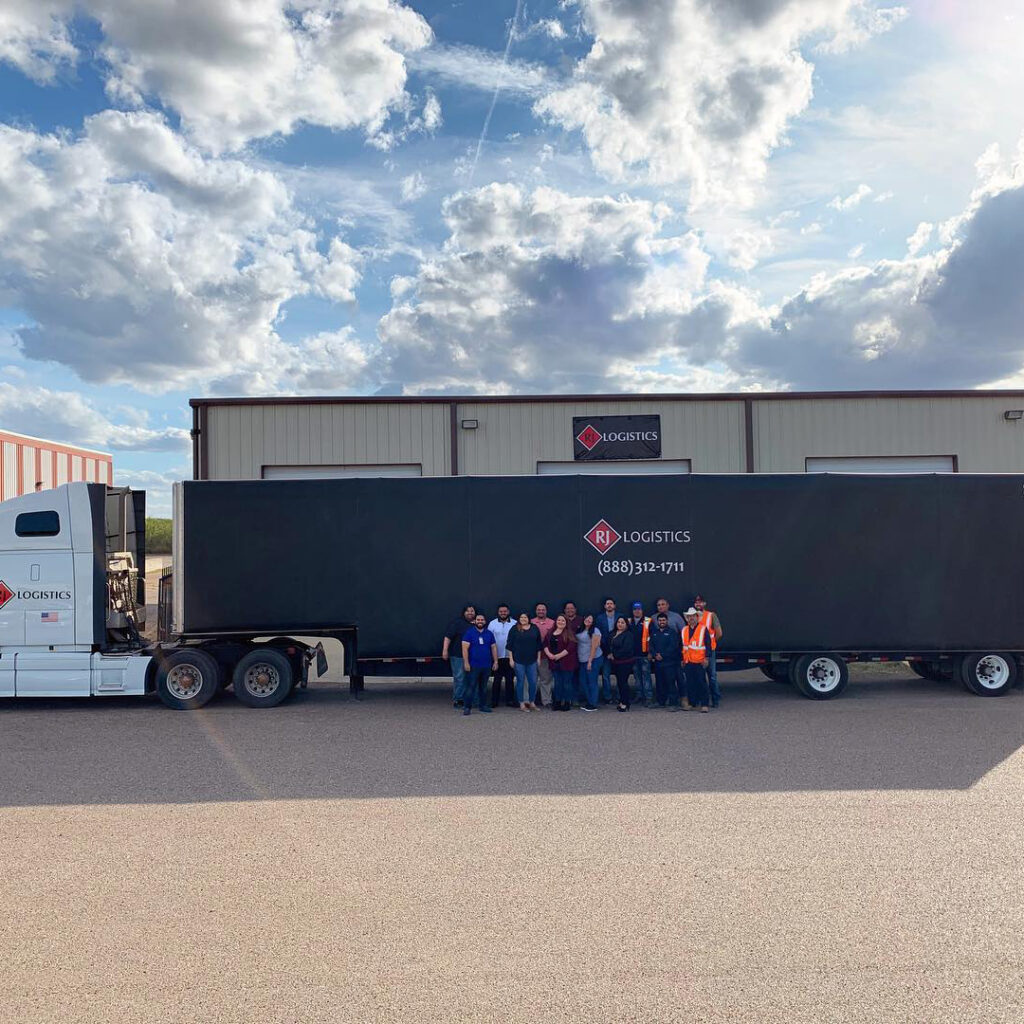 Interested in becoming a driver for RJ Logistics? Click here to learn about how you could benefit from driving for a company that wants to see you succeed.